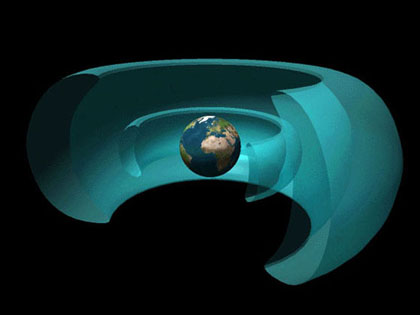 NASA's Van Allen Probes Reveal Zebra Stripes in Space
03.19.13 – Scientists have discovered a new, persistent structure in one of two radiation belts surrounding Earth. NASA's twin Van Allen Probes spacecraft have shown that high-energy electrons in the inner radiation belt display a persistent pattern that resembles slanted zebra stripes. Surprisingly, this structure is produced by the slow rotation of Earth, previously considered incapable of affecting the motion of radiation belt particles, which have velocities approaching the speed of light.
Scientists had previously believed that increased solar wind activity was the primary force behind any structures in our planet's radiation belts. However, these zebra stripes were shown to be visible even during low solar wind activity, which prompted a new search for how they were generated. That quest led to the unexpected discovery that the stripes are caused by the rotation of Earth. The findings are reported in the March 20, 2014, issue of Nature.
More LWS News